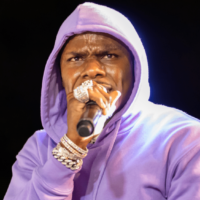 DaBaby has released the music video for his new track "Lonely" featuring Lil Wayne.  "Lonely" sees DaBaby talk about the death of his brother, who died by suicide in 2020, and the video for "Lonely" is also dedicated to DaBaby's brother, Glenn Allen Johnson. DaBaby also seemingly alludes to the backlash he received after making homophobic comments at Rolling Loud Miami.
The visuals feature DaBaby dressed up as violent clown (a la the Joker) and both him and Wayne at a mental health facility. A message from DaBaby reads at the end of the video: "Mental Health Awareness matters. 100% of us either deal with or know someone who is dealing with issues revolving around mental health on a daily basis. Take a moment after watching this video and check on your loved ones."
DaBaby has previously shared about his brother and mental health, tweeting back in 2020: "#MentalHealthAwareness  If you can't get over depression GET HELP, you see a loved one struggling get them help, they refuse the help, MAKE em get treated anyway. You suffer from PTSD take that shit serious & get help! I'm bouta get a therapist my damn self! #LongLiveG"
You can check out the video for "Lonely" – here.
Editorial credit: YES Market Media / Shutterstock.com