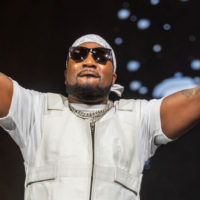 Jeezy announced the details of his upcoming LP Snofall, with assistance from DJ Drama and Don Cannon.  Jeezy's announcement just weeks after he delivered his single "'06" and reunited with DJ Drama for "I Ain't Gon' Hold Ya."
Snofall will be Jeezy's first new music since 2020. His last LP, The Recession 2 featured Yo Gotti, E-40, Demi Lovato, Lil Duval, Ne-Yo, Rick Ross and Tamika Mallory.  News of Jeezy's new album comes a few days after he held his 2nd annual SnoBall Gala at Flourish Atlanta for his non-profit 'Street Dreamz Foundation,' featuring special guests including Stacey Abrams, Tyrese Gibson, Porsha Williams, Will Packer, Ludacris, T.I. and Tiny Harris and more. Jeezy was able to raise over $200,000 to provide assistance and opportunity to underserved communities around the world.
Jeezy's new album Snofall is set to drop on October 21.
Editorial credit: YES Market Media / Shutterstock.com